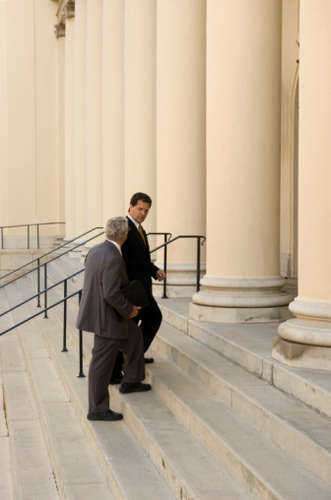 A Brief Guide to Michigan Probate Court
Michigan probate courts serve essential functions that should make familiarity with them and their procedures absolutely necessary for state residents. Though the most famous use of Michigan probate courts is the execution of wills, they can also be useful in many circumstances. They are charged, for instance, with distributing property not left in wills or when no will is made, as well as giving state approval for guardianships and conservatorships.
Michigan probate courts are located in the county seat of every Michigan county, which makes them convenient to visit whenever they are needed. If you don't know where your county seat is, or you want to know the exact address and contact information for your nearest Michigan probate court, visit this
page
.
Estate Execution and Michigan Probate Court
When an individual dies with property left in the state of Michigan, their estate goes into Michigan probate court.This process begins with the filing of a Petition and Order form with the local court. The next steps are the validation of the will and the inventory of the Estate's assets, including whether the Estate has any outstanding debt that needs to be paid. An executor is also appointed by the Michigan probate court to ensure that the will is properly executed, and everyone's rights are respected. Smaller cases may qualify for less regulation, and for them the Application for Informal Probate and/or Appointment of Personal Representation was created to deal with persons with less than 15,000 in property.
Occasionally individuals die with no will, a state called Intestate death. Here there's no will to validate, but more time is still needed because a new distribution of property needs to be agreed upon by all interested parties. Once this is done, an Order for Complete Estate Settlement can be issued at the Michigan probate court and eventually the estate will be formally closed.
Legal Guardianship, Conservatorship, and Michigan Probate Court
The other main task of Michigan probate courts is to supervise and appoint legal guardians and conservators. This duty has been passed onto Michigan probate courts because of how often the concept is dealt with in wills. Guardianships and conservatorships can be intended to care for both minors and mentally or physically handicapped individuals, any person who isn't able to deal with their own property or wellbeing in a rational manner.

Michigan probate courts appoint guardians to take care of persons on a day-to-day level and to make important decisions with them in their lives. A Petition for Appointment of Guardian of Incapacitated Individual or for a Minor is filed and then approved by the state. Conservators handle a person's funds and therefore the Petition and Order to Use Funds must be filed with the Michigan probate court when seeking this.
Forms, Fines and Michigan Probate Court
One of the factors making Michigan probate courts so intimidating is the fees and forms associated with them. For instance, it costs $150 just to file for a Guardianship or Conservatorship Petition. Estate processing costs the same, though it is only $37 to handle a $20,000 or smaller Estate.
Numerous forms will also need to be filled and filed before you can satisfactorily finish with Michigan probate court. These forms can be found at your local Michigan probate court, or visit the court system online
here
.
Comments
comments