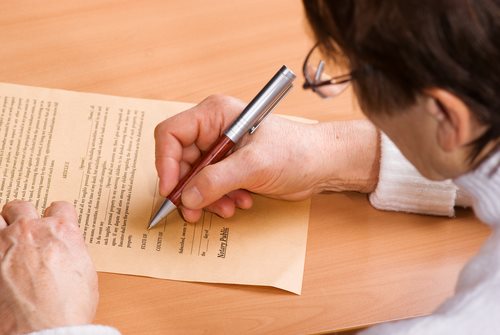 Guide to Virginia Living Will
Living wills are used when a person has fallen terminally ill and is unable to communicate their wishes. Virginia's government provides a detailed form that can be used as the backbone of a legally binding document, to which as much additional information as the patient sees fit can be added.
The first part of this "advance directive" form allows you to appoint someone to make medical decisions on your behalf if you are incapable of doing so. Having this kind of proxy does not mean your wishes in the living will be disregarded if your agent disagrees with them. You can specify that a proxy either may override or must abide by your written guidelines.
The form then asks you to provide statements about situations in which you would want life-sustaining treatments such as dialysis, artificial respiration and intravenous foods and liquids to be discontinued. You can indicate that any or all of these should cease if:
• You are permanently unconscious and are not expected to regain consciousness
• Serious brain damage or a disease such as Alzheimer's leaves a patient unable to recognize friends and family
• You cannot breathe without the help of artificial respiration and will be unable to leave a bed for the rest of your life
• You are terminally ill and bound to die soon with or without treatment
You can indicate that you wish for any or all treatments to be continued indefinitely or discontinued under any of these circumstances, or that you are not sure how you feel about each circumstance. The more detail you provide in your answers, the easier it will be to execute your wishes without being subject to a challenge from relatives. To this end, you are encouraged to write as much as you feel is necessary regarding:
• Religious beliefs explaining your decision to request or reject certain treatments
• Funeral plans
• What you consider to be an acceptable standard of life
• What treatments you would not consent to in any case
The living will becomes a legally binding document when it is signed in the presence of two witnesses, who must provide their name and address. Neither witness can be a beneficiary of the patient's will or appointed as their health care agent. The signature of a notary public is an acceptable legal substitute.
A lawyer's help is not necessary to complete a living will unless you are worried that your wording is unclear. The terms of the living will can be amended or revoked at either time, either through the creation of another document or orally.
It is up to the patient to make sure that this living will can be easily located in case of an accident. A copy should be presented to your physician or a close friend or family member. Additionally, keeping a copy on your person or in your glove compartment can be useful in case of an emergency.
Comments
comments